Vilgain Plant Protein Pancake Mix BIO
⁠–⁠ vegan pancake mix, rich in protein and fibre, no sweeteners, no synthetic additives
Vilgain Plant Protein Pancake Mix BIO
⁠–⁠ vegan pancake mix, rich in protein and fibre, no sweeteners, no synthetic additives
In stock 5 or more pieces
In stock 5 or more pieces
Fluffy pancakes packed with protein
Welcome a blend into your diet to make soft pancakes or waffles with the perfect texture and slightly nutty taste. One packet will make up to 25 pancakes in no time, so you can upgrade your usual breakfast menu with a tasty and nutritionally rich bomb in minutes.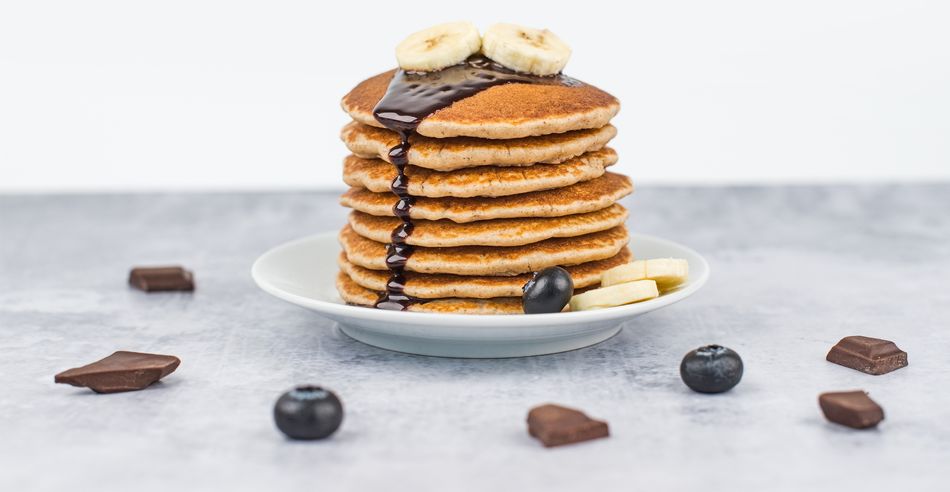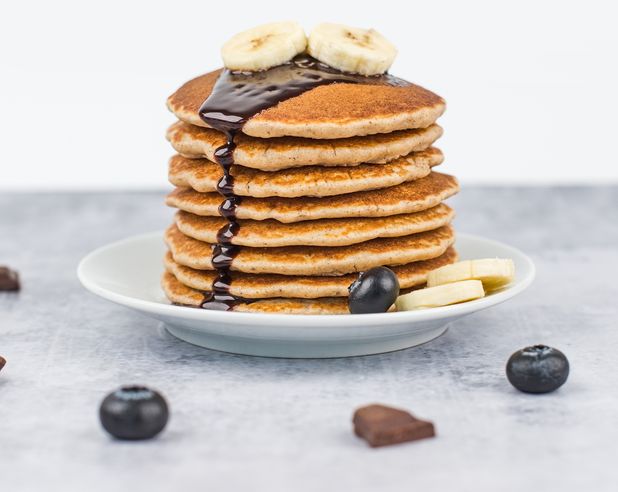 Naturally gluten‑free and high in fibre
We created this blend from a combination of 4 gluten‑free flours rich in complex carbohydrates, prebiotic fibre to support digestion and vegetable protein. We've provided a higher protein content with rice protein to make the pancakes an exceptionally filling treat.
And the other ingredients? Only the essentials - and flavourings, preservatives and sweeteners are not among them.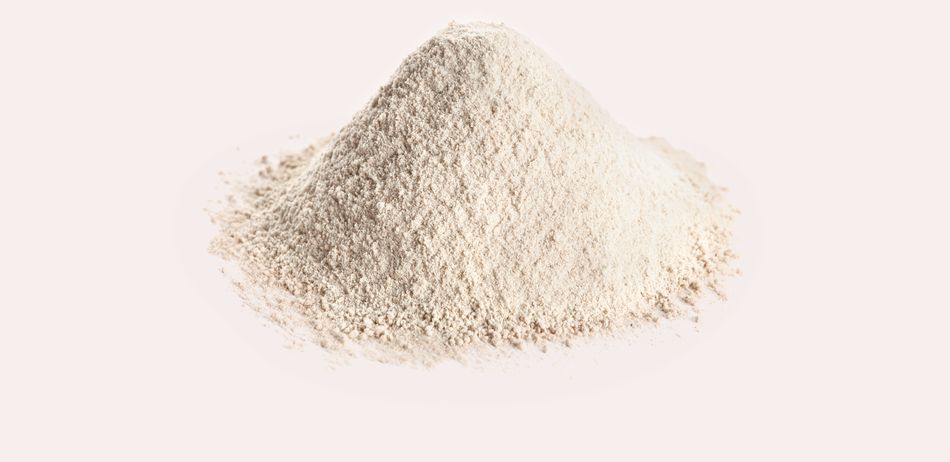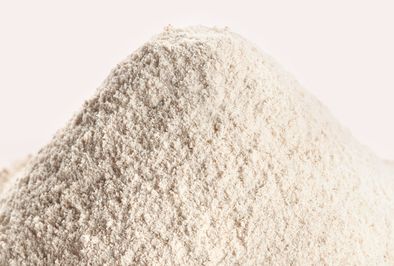 Nutritious breakfast in 10 minutes
Whether you're in a hurry or simply don't want to spend forever in the kitchen, our pancake mix makes it quick and easy.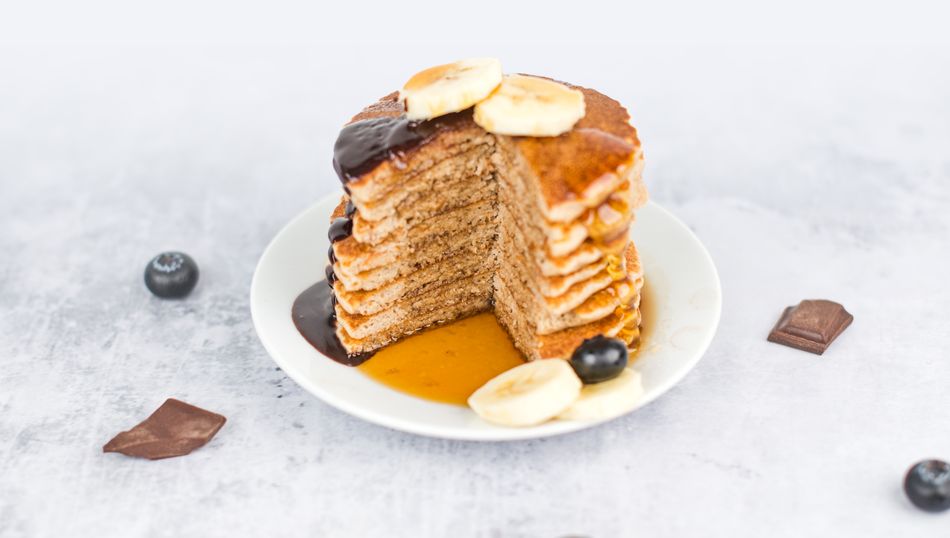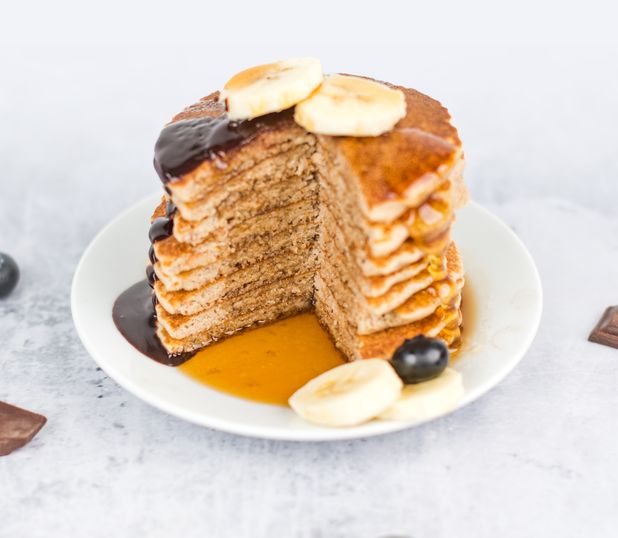 Compare our pancake mix with the competition
Vilgain® Plant Protein Pancake Mix
Regular vegan protein pancake mixes

Fibre content

Fibre content

8,6 %
The manufacturer does not specify

Bulking agents

Bulking agents

Natural corn starch and baking soda
Synthetic pyrophosphates

Sweeteners

Sweeteners

Without sweeteners
Synthetic sweetener sucralose

BIO

BIO

Yes
No

Gluten-free

Gluten-free

Yes
Wheat

Flavours

Flavours

No
Synthetic flavourings
Buy
Packaging: 400 g
Dosage: 16 g (1 pancake)
Doses in the package: 25 
| | |
| --- | --- |
| | 100 g |
| Energy | 1669 kJ / 396 kcal |
| Fats | 6,1 g |
| - of which saturates | 1,4 g |
| Carbohydrates | 55 g |
| - of which sugars | 2,5 g |
| Fibre | 8,6 g |
| Protein | 26 g |
| Salt | 0,86 g |
Ingredients
Buckwheat flour*, quinoa flour*, gluten‑free oat flour*, rice protein* 14 %, flax meal*, tapioca starch*, raising powder* (corn starch*, acidifier: potassium tartrate, raising agent: sodium bicarbonate), salt.
*From organic farming.
Allergens are marked in bold in the product ingredients. May contain traces of peanuts, nuts and sesame.
Instructions for preparation
Add milk and oil to the pancake mix.
Preheat the pan.
Pour a small amount of the mixture into the pan.
Fry the pancakes on one side until golden brown, flip and fry on the other side until golden.
Serve with your favourite topping, nut cream or glaze.
Warning
Food.
Contains naturally occurring sugars.
Store in a cool, dry and dark place.
Vilgain s.r.o., Smetanova 1022/19, 602 00 Brno, ID 29269555.
Popular alternatives
__________ __________ __________ __________ __________

__________ __________ __________ __________ __________

__________ __________ __________ __________ __________

__________ __________ __________ __________ __________

__________ __________ __________ __________ __________
Related Products
__________ __________ __________ __________ __________

__________ __________ __________ __________ __________

__________ __________ __________ __________ __________

__________ __________ __________ __________ __________

__________ __________ __________ __________ __________

__________ __________ __________ __________ __________
Also Bought
__________ __________ __________ __________ __________

__________ __________ __________ __________ __________

__________ __________ __________ __________ __________

__________ __________ __________ __________ __________

__________ __________ __________ __________ __________

__________ __________ __________ __________ __________